Raise the Sandbags
to
Help Protect Camp

Volunteers filled over 10,000 sandbags in just over a month!
The El Dorado Fire burned literally right up to Camp's doorstep and severely damaged the surrounding forest. The fire burned away all of the low vegetation and ground cover needed to prevent flooding and mudslides. Thanks to the tireless efforts of Camp volunteers and staff about 10,000 sandbags have been filled and placed strategically throughout Camp that we are hoping to be able to re-direct water and mud flow away from our buildings.
Needless to say, the purchase of over 112 tons of sand and 10,000 sandbags was an unanticipated expense but a crucial one in order to begin to safeguard the campus.
Your donation to cover the cost of sandbags will offset other expenses. Camp will also need straw wattles, silt curtains and straw bales to help protect the water tanks and wellhead from disappearing under mud flow. Click the image below to watch a short video by Janet James explaining some of Camp's immediate needs.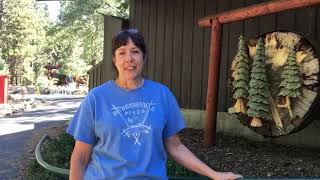 Janet James, Camp de Benneville Pines' Executive Director
Please join our Raise the Sandbag Campaign and help protect your Camp. Your gift of $5 funds one sandbag, $10 funds two and so on. We're got a big goal of funding all 10,000 sandbags and we need your help to accomplish it.
Your gift will give the gift of protection. Together, we can preserve our sacred home in the mountains for all to enjoy for a long time to come. The need is great and your loving support is vital to Camp's survival.
If you prefer, you can always send camp your gift through the mail. The address is:
Camp de Benneville Pines
41750 Jenks Lake Road West
Angelus Oaks, CA 92305-9789