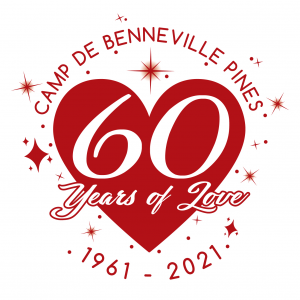 Share Your Love!
Your Gift to Camp will be DOUBLED!
Camp needs $350,000 to meet its financial obligations as it moves toward re-opening this fall on a limited basis and to carry it through the spring of 2022 when it can hopefully be back in full swing! Money is needed to all types of operational expenses such as re-stocking the empty kitchen pantry and cleaning supplies, purchasing sanitation stations and other equipment to help make us safe in this continuing time of Covid-19, covering the revenue shortfall due to reduced camp occupancy and to hire and train new staff.
A new group of loving camp supporters (aka heroes) have banded together to create a challenge campaign to help camp meet it's ongoing financial needs and to celebrate this auspicious anniversary. They have pledged to match up to $175,000 between now and December 31, 2021! That means your gift will be matched dollar-for-dollar up to $175,000. There is no better anniversary present for camp than to reach this $350,000 goal.
Please join this ever-growing group of camp heroes by Sharing Your Love. Remember every donation received from now until the end of this year will be doubled, up to $175,000. 
If you prefer, you can always send camp your gift through the mail. The address is:
Camp de Benneville Pines
Attn: Janet James
41750 Jenks Lake Road West
Angelus Oaks, CA 92305-9789