Our Camp's Future: Join Our Monthly Giving Program Today
and Your Gift Will Be Doubled!
We stand at a critical juncture in the journey of Camp de Benneville Pines, our beloved Unitarian Universalist camp serving youth and adults. As we continue to teach and nurture UU values, we face the challenge of ensuring sustainable programming and operations support.
We invite you to become a beacon of reliability by joining our monthly giving program. Your steadfast commitment will provide us with the vital and consistent income necessary to empower our camp's future and create a lasting impact on the lives we touch.
For a limited time, an anonymous donor has challenged us with a generous $10,000 matching gift grant, offering to double the power of your contribution!
When you join the Monthly Giving Program between now and 9/30/23, your monthly gift will be matched dollar-for-dollar for the next 12 months! For instance, your $50 monthly donation totals $600 annually. By joining Monthly Giving today, this gift will equal $1,200 over the first 12 months!
Your commitment to our camp's monthly giving program carries immense significance. By providing a reliable source of income, you empower us to continue teaching and nurturing UU values in a sustainable manner. Together, we can ensure that Camp de Benneville Pines remains a vibrant community dedicated to inspiring and empowering individuals with the transformative power of Unitarian Universalism.
BE SURE TO CHECK THIS BOX SO YOUR
DONATIONS WILL RECUR EVERY MONTH!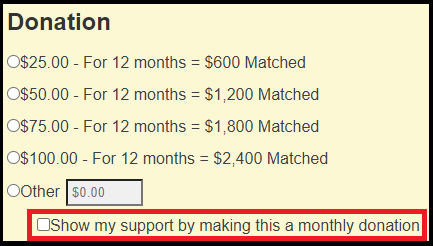 DE BENNEVILLE PINES, INC is a 502(c)(3) nonprofit corporation; Federal Tax ID # 95-2143254.
Your donation is tax-deductible to the fullest extent provided by state and federal law.