Homet Lodge is the communal dining area at Camp. With its wood construction, large stone fireplace, walls of windows, and a large deck with tables and chairs overlooking the forest, the Lodge is inviting and comfortable for all.
Enjoy delicious in-house prepared meals which are served buffet style. The talented and caring staff provide a variety of nutritious, tasty fare. Breakfast is anything from expanded Continental to a fully prepared hot meal. Lunch and dinner generally include cooked food, fresh salads, and desserts. Menus are designed with specific camp groups in mind and the selection of foods accommodates most dietary requests. Please be sure to make your needs and preferences known when you register.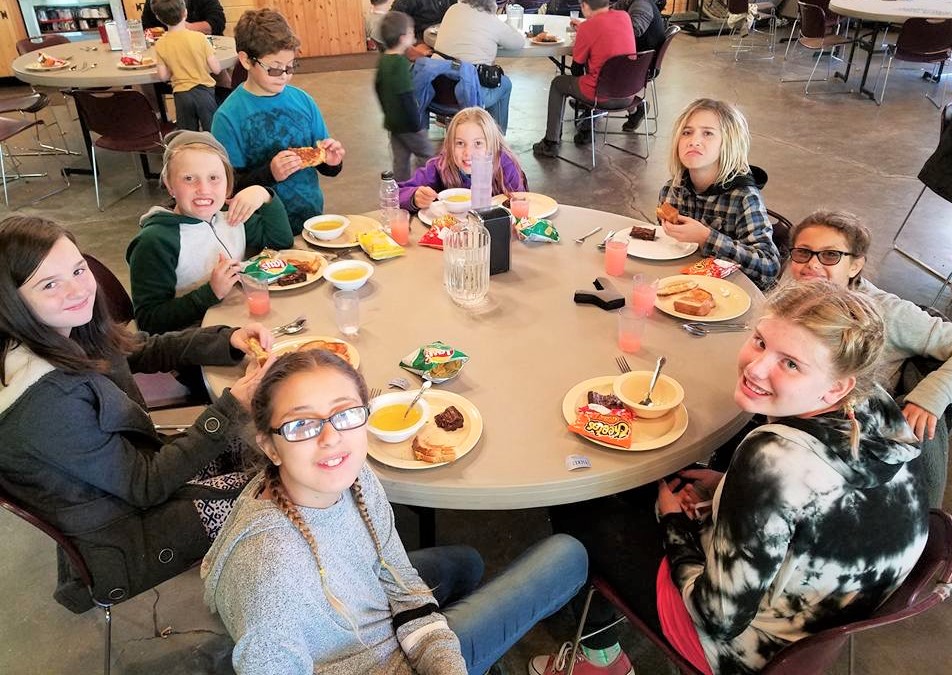 Campers provide the set-up and tear-down of tables, chairs, and table-top items in a fun atmosphere of working together. Round dining tables make for easy and welcoming conversations during meals. For extra enjoyment, take time to sit with someone new at each meal.
"My kids love everything, but especially the food. Seconds? They love seconds."  Scarlet S.
Help yourself to the 24-hour hot beverage station. It is stocked with regular and decaf coffee, hot water, teas, cocoa, and cider mixes, as well as creamer, sugar, and honey. Fill your personal mug or use one of ours.
Go outside and enjoy the wide deck which features benches along its length and tables with seating and umbrellas. It is a delightful and popular spot for pre-dinner social hours and music gatherings.
You may bring and enjoy an alcoholic beverage at most de Benneville sponsored camps if you are of legal drinking status in California. Leased camps have their own rules regarding alcohol. Check with the camp organizer(s) or dean(s) if you are uncertain.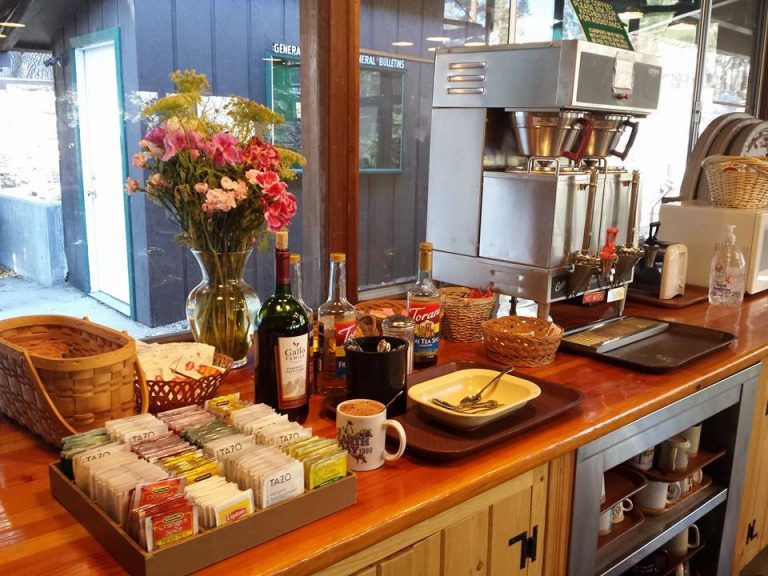 Craig's Cabin and Cabin 6
Both cabins feature complete kitchens and small dining areas and are ideal for small retreats and gatherings. The kitchens are equipped to allow you to prepare and serve simple meals. Campers in these cabins may have food in the cabins provided it is kept in containers with tight-fitting lids or in the refrigerator.
Please do not keep food in any other cabins or vehicles. You are invited to use the small refrigerators and designated cabinet in Homet Lodge.
"I can't say enough positive things about this camp! Yummy food, amazing staff, and such a lovely spot in nature." Angela Lynn A.