From the Mountain Top August 2020
News from the Mountain Top
Dear Camper,
Oh, how I miss the youth campers filling the campfire circle on a balmy summer night to perform cabin skits, chant, and sing those crazy camp songs. I pass the fire circle each evening, and there is a stack of firewood off to the side of the fire pit, just waiting for the first group of campers to return to camp after COVID.
Be safe and stay healthy. I cherish you all.
Janet James
Executive Director,
Your Beloved Camp
Youth made heartfelt connections at Virtual Summer Camps 
For three weeks in July, de Benneville Pines Camping Ministries leaders and volunteers rallied to give UU youth a new way to "connect at camp" from the safety of their homes. At the same time, Geoff Anderla enjoyed Youth Camps one last season before saying farewell as Camping Ministries Director.
Camping Ministries Director Marianne Swift-Gifford recaps all four camps >>>
Covid-19 continues to have an impact on Camp and campers
The Camp de Benneville Pines governing board has decided to keep Camp closed for the remainder of the year.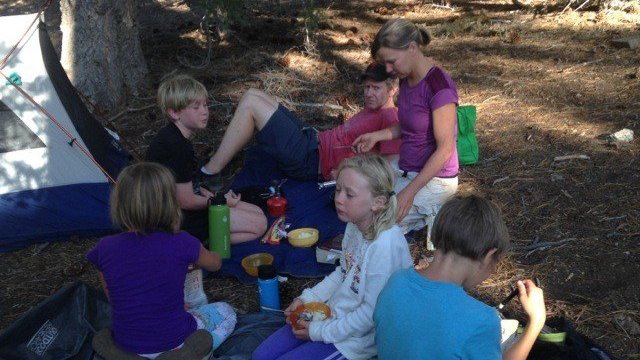 Distancing in the Wilderness via a family backpacking trip
Over July 4th weekend a UU family used de Benneville Pines as a jump-off point for a first-time backpacking trip to John's Meadow for their children. 
Watch this Video about the Importance of Your Camp
Camp de Benneville Pines shapes lives
Watch this video and listen to outgoing Camping Ministries Director Geoff Anderla relate the impact Camp de Benneville Pines has on our yoUUth.
Be reminded of why your heart is in the mountains and why Camp needs your support now more than ever!
Keep the spirit of de Benneville Pines and yoUUr faith alive in your heart.