News From the Mountain Top — Spring 2022
News from the Mountain Top
Hello Campers and Camp Supporters:
Please join us in celebrating 60 Years of Love up on the mountain top.   Camp de Benneville Pines has been serving kids, teens, families and adults since 1961, and we want you to help us celebrate! 
A day of celebration is planned for Saturday, May 14th, 10 am – 4 pm.
Special programming for all ages will take place throughout the day, and camp supporters from around our service area are driving up for the day to enjoy the camp and connect with friends.
It has been a challenging two years with the El Dorado Fire, Covid closure, restoration work, clean up from rubble and mud flows into camp, and all the outreach to raise funds to keep camp operations going.  We have much to be thankful for and much to celebrate.
At 1:15 pm we will be honoring the fire crew who saved our camp from burning down in the El Dorado Fire. Come by and ask questions about the fire and help dedicate a plaque in their honor — right by the fire circle. What a great chance for the kids to see a fire engine up close and personal, and to meet the people who fought hard to save our camp.
Please give Daisy Doodle a rub and find me for a big hug!  I would adore seeing you!  
Let's get camp reopened and let's get back to joyful times.
Hope to see you on the mountain top!   Click here for full details and to register or read more highlights of the program below.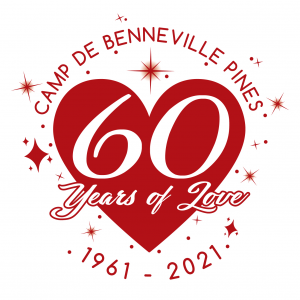 Reverends Carolyn and Tom Owen-Towle will lead a worship service and dedication of camp's new chalice in the Amphitheater. The chalice was created specifically for camp by artist Kelly O'Neil.
Come help us honor the firefighters from San Bernardino County Strike Force 6231C who saved our camp from the devastating 2020 El Dorado Fire. And…they're bringing their firetruck!
Marianne Swift-Gifford, our Camping Ministries Director, and a team of volunteers and counselors will be leading activities all day long.
There will be things for all ages to participate in.
Join them for hikes, improv, creative writing, arts and crafts, visit the Fairy Forest, shoot some arrows at our newly rebuilt archery range, yoga. The list goes on and on. 
All we need is you to make sure it is truly a celebration of Camp LOVE!
Pat Gordon, president of the Board of Directors and head of the Stewardship committee, will give a "state of Camp" overview and answer questions.
Amy Brunell, from UU Santa Monica, will lead us in a closing ceremony at the Fire Circle. Come be a part of this uplifting affirmation of Camp LOVE.
No celebration of Camp LOVE would be complete if you're not there. Please come join us as we celebrate 60 Years of Love at Camp de Benneville Pines.