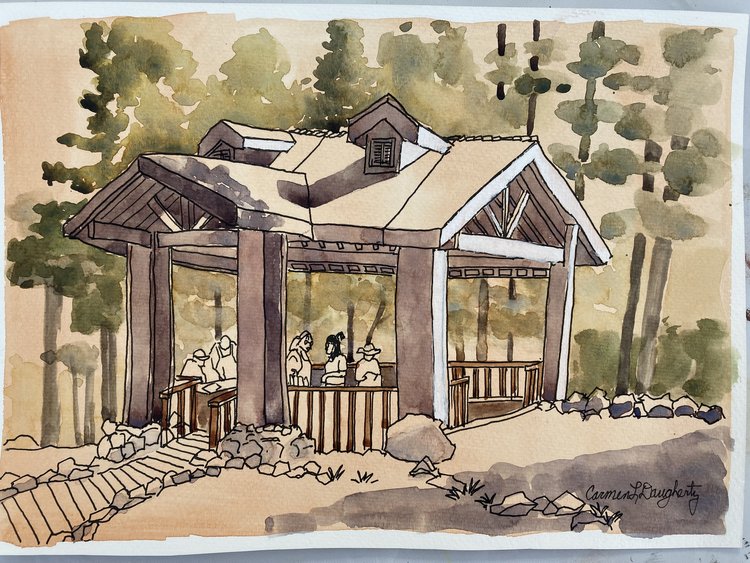 * SAVE THE DATE *
2024 Art Camp 4 Grown-ups
Thursday, September 5 to Tuesday, September 10, 2024
Dean: Abbey Chamberlain
This Artist Retreat for adults is truly special!  Experienced and novice artists alike have the chance to enjoy a six-day respite from their everyday lives in the splendor of the forest. Taught by talented, passionate, professional artists who build on their lessons over the week, Art-Campers choose one Intensive art module as their 5-day focus.  These classes are limited in size in order to provide individual attention and to accommodate the medium's venue.  Class atmosphere is supportive of the creative process, accommodating all levels of proficiency.
Stay tuned for the 2024 Intensive and workshop options!
The result is a week of growth in artistic skill and confidence. Throughout the 6-day camp, art pieces will be shared in a spirit of learning and skill development. The camp concludes with an art show on the final morning. Come take art classes and enjoy the company of fellow artists.
Students will be given a list of materials to bring to camp. Classes will be limited to fewer than 16 participants, with maximum class size determined by the venue.
Then in the afternoons, campers sample offerings by both the morning instructors and additional Afternoon Workshop leaders. The idea is to try out various media and experience something new.
Social hour followed by a tasty dinner are times to discuss the day's events and get ready for the evening activities. On the first evening campers are encouraged to bring some of their recent work for brief "Show and Tell" presentations. On subsequent evenings, the morning and afternoon instructors will give talks titled "My Artistic Life." These inspirational talks are a great way to get to know the instructors better.
Besides doing art, campers can enjoy traditional camp activities such as swimming, archery, yoga, hiking, walking the labyrinth, and if weather permits, canoeing on Jenks Lake which is within walking distance of camp. Don't plan on doing it all, as making choices will be absolutely necessary.
Delicious chef-prepared meals include vegetarian, vegan, and gluten-free options. Cabins are comfortable, if rustic, with shared bedrooms and bathrooms down the hall. Roommate preferences are indicated at registration. Also, some rooms with double beds are available for couples upon request.
Proof of vaccination will not be required for this year's Art Camp. Campers must Rapid test for Covid-19 within 24 hours of arrival to camp and prove a negative test result upon check-in. Click here to read the updated policy in full.
Need even more information about this amazing Artist's Retreat, check out artcamp4grownups.