2023 Rainbow Family Camp
Friday, March 31 – Sunday, April 2, 2023
"Spring Fling"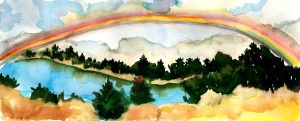 Come join other Rainbow Families for a weekend of family up in the mountains.  Camp de Benneville Pines offers a safe and caring environment where parents can openly share and network while children enjoy the freedom to play and build lasting friendships with other like-minded campers.
April in the mountains can be very spring-like or we can have a late snowfall.  Plan on having fun outdoors either way.  Should we have snowy conditions, we just bundle up a bit more with knit hats, gloves, and warm coats.
Enjoy a walk to the lake, hike into the wilderness, design family quilt square, arts & crafts, colorful egg hunt, spring hat decorating, movie night, chocolate bunnies, building fairy houses.  We will play BINGO with prizes, board games & puzzles, showcase your talent, dress-up for Rainbow's Family Dance Party.  There will be lots of good food and lots of good company at every meal.
Rainbow Family Camp is a weekend of fun and friendship because of you!  Although our campers look forward to their camp favorites, it is the enthusiastic participation of our parent volunteers that make this camp our most popular camp every year! Do you have a creative idea to share?  Would you like to lead a camp activity already planned for Rainbow's Spring Fling?  Let us know, as we'd love to weave you into our tapestry of fun and games.   
At Camp de Benneville Pines, each family has their own bedroom in a fully heated cabin shared with a few other families. Bring your own bedding (sleeping bags & pillows) and plan to make new friends as you gather with old friends up here on our mountain top.
Sign up now to guarantee a space as this camp usually sells out fast!
COVID UPDATE:  Camp no longer requires proof of vaccination at check-in, however, you will be required to show a negative Rapid Test result upon arrival before mingling with other campers. More details to follow closer to the event.
Prices includes lodging, all meals, activities, and supplies. A $75 per person non-refundable deposit is required to confirm registration.
Camp de Benneville Pines has moved to a self-selecting sliding fee scale for adult participants at our family camps. Level 1 ($185) is our minimum cost, Level 2 ($210) assists camp in meeting its needs and Level 3 ($240) helps offset costs and supports camp's scholarship fund.
Adults (ages19 and older):  Level 1 = $185, Level 2 = $210 and Level 3 = $240
Youths (ages 13 to 18): $165/person
Children ages 3 – 12: $145 per person
Toddlers/Infants: No charge
Upgrades charge for Craig's Cabin or Cabin 6: $35/adult, no additional charge for youth or children.
To make camp affordable, you can even make installment payments!
A full Camper Packet with directions and camp information will be emailed to you approximately 10 days prior to camp start date.
Questions regarding program: Contact Jill Lummus, camp dean, jwlummus@gmail.com
Questions regarding facilities or the general camp: Contact Janet James, executive director, director@uucamp.org, 909-435-6298
Questions regarding registration, payment arrangements or cabin assignments: Contact Laura Chamberlin, registrar@uucamp.org, 305-389-4755