UU Family Summer Camp
Sunday, July 30 – Saturday, August 5, 2023
"Light Spirit and Harmony Family Camp"
Dean: Kathryn Deal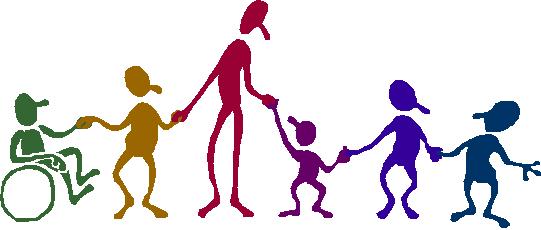 Registration opens March 25, 2023 at 7 am Pacific Time
Register    Scholarship Application
This summer, pack up the family and journey up to the land of towering pines, fresh air, clean water, outdoor activities, and a camp dog waiting to greet you. Venture to Camp de Benneville Pines for UU Summer Family Camp. Expand your horizons through personal and shared adventures, soul searching, and the quest to learn something new. First-time families, and those who have made Camp their home for many years, travel together through fun, friendship, and family escapades in the wondrous wooded setting.
The workshops at Family Summer Camp are shared from the heart as campers build a safe and welcoming space where each person can contribute to the community**. The varied and creative workshops offered each summer make Camp a unique and distinctive experience. Join us in this place of beauty, exploration, community, and joy while participating in art workshops, games, improvisation, variety show, archery, swimming, campfire activities, and a magical banquet dinner—complete with theme and costumes!
We are so looking forward to family camp…meeting new families and laughing with old friends!  Families come in all shapes and sizes. We love all of them! Come feel the light of sunshine, the spirit of the woods, and the harmony of all our families together celebrating what makes our community so special.
Pricing Information
Camp de Benneville Pines has moved to a self-selecting sliding fee scale. Level 1 is our minimum cost, Level 2 is what it takes for us to meet our needs and Level 3 helps to offset costs and supports camp's scholarship fund.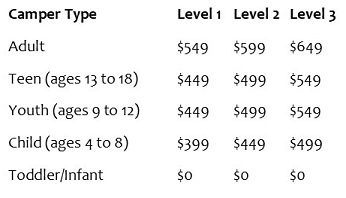 Pricing includes lodging, all meals, activities, and supplies.  A $75 per person non-refundable deposit is required to confirm registration. Full balance due one week before the start of camp. No refunds will be allowed after check-in begins on the first day of camp. Electronic invoices will be sent out periodically, allowing partial or full payment, until payment in full is received.
Register by May 31, 2023 and take advantage of our $100/family Early Bird Discount!
Due to the unique needs of multiple family configurations, housing is not always assigned on a first come, first served basis.  Camp staff will endeavor to meet special needs as they can.
Click here to read more about camping ministry's current COVID policies.
Registration fills quickly for this much-anticipated camp.
Do not miss out…………. register early!
**Family Camp has a great tradition of families each sharing an activity or program during the week.  Start thinking of what you will contribute to the awesomeness of family camp!