From the Executive Director and Board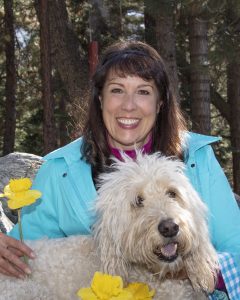 Executive Director Janet James and Camp Dog Daisy Doodle
---
October 9, 2021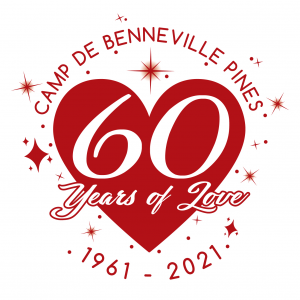 Camp's 60th Anniversary Challenge
We are not out of the woods yet, bringing the camp back to life takes an infusion of support – both voluntary and monetary. Our thanks to all who have participated in saving the camp from bankruptcy over this extended period of Covid closure. Your dollars have gotten us through the worst of times. And our thanks to all who have come up the mountain to rake leaves, fill sandbags, oversee work projects, paint, stain, and clean cabins. Thank you for the love and support. Camp supporters are the best supporters ever!
Now comes the really tough and challenging task of reopening after a long, dark closure. The task to find employees, train them, order in supplies and food, pay for PPE supplies, promote our reopening in spring 2022, register campers, plan programs, find volunteer workshop leaders, and book events, has just begun. Yes, it is like starting all over from scratch. On top of it, the number of campers we can accommodate is limited to half capacity. We don't even begin to break even until we reach 80+ fully paid campers, every weekend of the year, and 12 weeks of summer. So, we will need a cushion of funds to underwrite operating costs for many months to come.
We do see light at the end of the tunnel, but until we are fully operational and working at full capacity, the bills will be rolling in, and the registration fees will NOT cover our expenses.
The good news is that a small group of dedicated camp supporters have banded together to create a matching fund of $175,000. You can double your donation by contributing to camp by December 31, 2021. We have been working on matching the challenge for several months now and have raised $85,000, and that means $90,000 left to go! And we can do it with your support! Every dollar raised between now and the end of the year will be matched dollar-for-dollar for a grand total of $350,000 to sustain camp through its opening year.
We have so much to be grateful for, and so much work to complete. I recognize that I can't do this alone…it will take everyone who loves Camp de Benneville Pines to help. $5, $25, $50, $150, $500, $1000 or more. Any and all contributions will help to sustain camp through this most critical period of all. Your participation will help us reach our 60th Anniversary Matching Gift Challenge of $175,000. Just think, when doubled camp will receive $350,000!
I can work miracles with your support. I have personally donated $1000 to this campaign. Are you able to match my match? Can you dig deep and find any dollars to share? I sure hope so or I might well be the only person left upon the mountain top in a lonely camp that cannot support a reopening.
From my heart, I appeal to all to make a contribution at any level. Please help me match the last $90,000 of this campaign by December 31, 2021, and let's ring in a new year with a bright future for our beloved camp!
Share Your Love!
Yours from the mountain top,
Janet James
Executive Director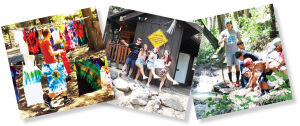 ---
October 5, 2021
Hello campers,
Our fall soft opening had a rocky start with a September US Forest Service closure of our forest. Some camps had to cancel for this season, and several rescheduled into the late fall. Most camps are coming in very small with numbers between 20 and 60. Not at all a profitable venture, but the point of a soft opening is to put into place new procedures, train new employees and basically try to "ride the bike" again.
Camp finally welcomed back its first campers in 19 months on October 1st. How joyous to have campers return to the mountain. Twenty-eight Art Groove campers enjoyed a week of life drawing, plein air painting, collage, and artistic journaling.
De Benneville Pines will greet campers each weekend through Thanksgiving weekend and then close for the winter months. Due to the challenges involved with social distancing during the chilly winter, the board has elected to reclose camp December 2021 thru March 2022. It is our hope that camp will reopen in April (spring rainstorms will drive this decision) and be fully up and running by mid-June. Watch for an updated 2022 calendar of events arriving to your inbox in November.
With the recommendation of the Covid-19 Protocol Committee, the board has created the following Covid operational policies:
All camp staff and campers must show proof of full covid vaccination
All camp staff and campers will wear masks while on the food line
All campers will wear masks when inside the lodge or a meeting room
Masks will not be required while dining
The number of people allowed in camp at one time will be held to half of the camp's capacity (66 campers)
Hand sanitizer, plastic gloves will be made available in the lodge and to those who are handling dishes for set-up
All food will be served by the kitchen staff on the food line. There will be no self-service of food that is not prewrapped.
Spray sanitizer will be available in all cabins for use by campers to sanitize surfaces as they desire
Surfaces will be wiped down often in the lodge by staff
Any staff member who shows signs of illness will not be allowed to work
Any camper who does not feel well will be isolated from the group and treated by camp medical personnel or sent home
Every camp will set aside at least two (2) rooms as isolation rooms. We recommend Rooms C & D in Cabin 1.
Although these policies may seem overly cautious, it is the intent of the board of directors to keep our campers safe from Covid and its variants. Click here to read camp's detailed COVID Protocols.
We do hope to see you up at camp in 2022.
Janet James              Pat Gordon
Executive Director     Board President
---
September 20, 2021
It has been busy up on the mountain top.
We had some fast and furious rainstorms in late August and the mud and water from the burn area eventually breached our straw barriers and flowed down thru camp. Although the major part of the rainstorm was only 45 minutes long, it rained hard enough to bring plenty of the hillside behind Craig's Cabin down into camp.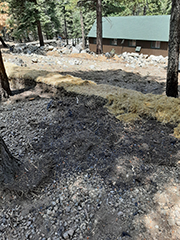 I am so grateful for the work of the volunteers during the late spring and early summer. Over 10,000 sandbags were filled and placed in strategic places around buildings and on the hillside. A double wide straw bale wall was erected behind the camp from east to west, and a county grant paid for the installation of 42 K rails up on the hill to protect Craig's Cabin, the maintenance house and water tanks from water and mud flows. These measures, along with digging out the water channel to the west of camp, helped to direct water and mud away from structures and right on past to Jenks Lake Road. From there water travels down towards lower ground.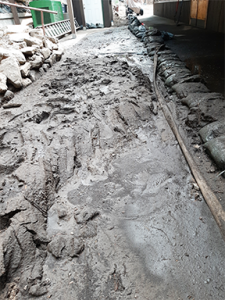 We did have a major flood into the rest rooms at the Homet Lodge. Unfortunately, we had moved sandbags for road work and had not put the sandbag wall back into place before the rain started. The effort to clean out the mud from the south side of the lodge was huge. It took camp staff five days to dig out the mud and cart it away by wheelbarrow. Also buried under four inches of mud and ash was the basketball court. Since all water must move downhill, the trail system in camp took a beating as the rivers of water ran over our decomposed granite trails and washed out the pathways at their lowest points. You can imagine we had water running down between all cabins and down towards Jenks Lake Road. I shudder to think what would have happened to our camp had we not done all the preemptive work with straw bales, silt curtains, K rails and sandbags.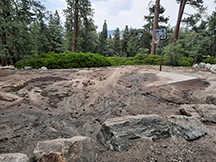 Once again, we mobilized with the help of volunteers to repair the trails and dig out the basketball court. We hired in the erosion control company that had installed the straw bales and had them replace any straw that had been damaged in the storm. Since the straw wall had held up and done its job in the mighty storm, plenty of debris had piled up behind the walls of straw. This debris was dug out and was used to fill large trap bags. These bags were then placed in strategic locations 30 feet above the straw bales to form a first line of defense to slow down the mud flows off the mountain.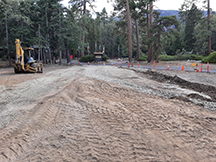 The parking lot took a huge beating with all the water converging in the center, so a purposeful drainage area was dug and filled with small rocks to slow down water into the lot in the future. Most "fixes and repairs" created by staff and volunteers are built for moderate rainstorms. More permanent and lasting drainage channels will need to be designed by an engineer and will take building permits and contractors to install.
The cost of the repairs to trails, parking lot, digging out the lodge and behind the straw bales, and correcting for erosion barrier failures is $40,000. We installed 180 new bales of straw. This type of work and cost will be ongoing whenever we have a significant rain event that moves mud and ash down the mountainside above camp. To date, we have spent over $80,000 on erosion control!
Please contribute to camp and its ongoing need to support camp operations while we continue to deal with erosion issues.
Thank you,
Janet James
Executive Director
---
July 1, 2021
Our overriding goal in striving to re-opening Camp this fall has been to put camper safety first while aiming to have camp still feel like camp. We are taking the commonsense approach of a "soft re-opening" this fall that will protect camper health while allowing campers to share experiences in their spiritual home on the mountain top.
For the past 60 years, we have taken pride in creating magical memories for our de Benneville Pines community. We know this fall will look and feel different from prior years. We also believe that participating in a camp experience is needed more than ever during this challenging time. Our success depends on each of us individually being committed to our community and Camp's success.
To determine the viability of re-opening the camp, the Executive Director requested and received approval from Camp de Benneville Pines Board of Directors to create a sub-committee to assess the needs and requirements to accomplish this goal. The Board approved the creation of such a committee. The committee's purpose is to submit to the Board plans for the opening of Camp during the month of September 2021.
On June 15, 2021, the Board of Directors approved the following policy for a "soft re-opening" of Camp beginning in September. The sub-committee will continue to meet, review new information from the CDC and other health agencies and potentially make recommendations to the Board supporting a less restrictive policy.
Camper Health Re-opening Requirements Related to COVID-19 Vaccinations
At this time, we can only invite those individuals who are fully vaccinated against COVID-19 to attend in-person camps starting this fall.
The vaccination series must be completed at least 14 days prior to the first day of camp, with proof submitted to the registrar seven (7) days before the first day of camp.
For church-sponsored and leased camps, the organizers of these camps will be responsible for collecting this information and submitting it to the camp's registrar at least seven (7) before the first day of camp.

We realize that, unfortunately, this excludes many of our UU family and other campers, especially our youngest populations. Please rest assured that this was not an easy decision and that we will reevaluate as necessary to determine if less stringent options are possible.
For all the camps this fall, there will be strict protocols to follow if a camper comes down with symptoms of illness. Quarantine areas will be available, and campers must agree to abide by all health protocols as a condition of attendance. The health status determination as to whether a camper will be allowed to stay will be made by the Health Care Personnel at camp. Their decision will be final.
Our hearts are with you as this has truly been a time of loss for everyone. Our goal is to return all populations to Camp as soon as safely possible, which will be determined by our sub-committee and approval of the Board of Directors.
                                Camp de Benneville Pines Board of Directors
                                June 15, 2021
Be well and be safe,
Pat Gordon
Board President and Chair of the Stewardship Committee
Camp de Benneville Pines
---
With COVID-19 and the El Dorado fire of fall 2020 affecting Camp and the personal toll the past year has taken on us all, you need Camp! Keep your spirits up. Hope is on the horizon!
Camp de Benneville Pines continues to be closed to all on-site camps through September 2021, however, we will begin a "soft" opening of Camp this fall. The health and safety of you, our extended Camp family, will continue to be our first priority. As we monitor the progress of the fight against COVID and the mitigation of the damage from the fire, we hold hope that we will soon be together again on the mountain top.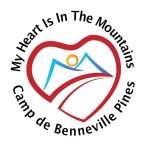 Please visit the the Camp Calendar page for information on virtual and in-person camps and events. You can keep up to date on other Camp happenings and read our digital newsletter at What's New?
---
April 27, 2021
There is no denying that the pandemic has taken us all on a wild ride. And as if the camp closure due to the pandemic wasn't challenging enough for the staff and board, along came a senseless wildfire—the El Dorado fire—that started in a park at the bottom of the mountain and moved up into the national forest, consuming 23,000 acres of our national forestlands. The fire roared around camp on three sides, burning down to the buildings on the upper camp loop. The flames took about two weeks to reach camp, and eventually petered out once the fire merged with the burn of 5 years ago, on the ridge above camp.
As we turn our attention to repairing, fixing, building, sorting, and cleaning, we are moving in the right direction, inch by inch. One incredible story this season has been the number of Camp supporters who have come up to help fill 10,000 sandbags and get them placed in key locations throughout camp. Volunteers logged over 1500 hours to fill bags, load them in trucks and strategically place them. Under the direction of key board and committee members, we installed straw bales, silt curtains and water filled K rails on the hill behind the camp to "hopefully" redirect any mud and ash flows that will run down the mountainside during heavy rains.
Volunteers have been helping out in other ways too, contributing 4000 hours working on improving our alarm system, installing a weather station at the lodge, sewing curtains, inventorying first aid supplies, cleaning out arts and craft bins, sorting through camp store inventory, staining buildings, working on fire clearance and tree trimming, sorting office files, building supports under every mattress, rehabbing trail lights, staining decks, cabins and picnic tables, sewing COVID masks, working on erosion mitigation plans, raising funds to support camp operations,  and making glass hearts to send as thank you gifts to donors. I am sure I left someone, or some project out, so please know that all volunteer efforts are deeply appreciated, especially during this extended closure with loss of camper-fee revenues.
Our fingers are crossed for a soft opening in fall 2021. This means that retreat groups will be smaller due to CDC guidelines and food service will be modified and simplified to meet stricter County guidelines. Although we won't be operational this summer, we will be offering many opportunities for people to come up and socially distance and work on volunteer projects—we have a lot to accomplish to make camp ready.
I extend my deepest thanks to all who have risen to the challenge and opened their wallets during the COVID closure. We will launch our 60th Anniversary Fundraising Campaign in June 2021, with a goal to raise $350,000 by December 2021. This money will shore up the budget through the end of our fiscal year in March 2022. The need for fundraising to support Operations is a top priority over the next 18 months.  It could take up to 20 months or more before the camp is running at capacity.
Special are those of you who give of your time and talents to keep Camp going for those yet to come. You are the heroes of this story. You see what is right and good about the work we do at Camp and you genuinely believe Camp changes lives for the better. Thank you for your continued support through your volunteer efforts at Camp and through your meaningful monetary gifts.  All funds raised right now go to keeping our magical mountain top home alive and waiting for campers.
In gratitude,
Janet James
Executive Director, Camp de Benneville Pines
And speaking of "sixty years of Camp de Benneville Pines", please help us celebrate 60 Years of Love, and join with us for a grand celebration on Saturday, December 4, 2021. First Church San Diego will be the host site for our anniversary party, and we expect to have a grand time celebrating with campers and camp supporters. More to come, so save the date! 
As head of the Camp's Stewardship Committee, I'd like to share with you this three-minute fundraising video put together by a talented volunteer at Orange Coast Church.  Although we need to update the snow photos with springtime photos, the message is right on point:  For Camp to survive both the COVID closure and the fire, we need intentional fundraising efforts, with the help of our owner churches, to support Camp Operations for the next 18 months. Please continue to show your love. 
Gratefully,
Pat Gordon
Chair, 2020/2021 Emergency Fund Drive
---
For ongoing updates and Camp de Benneville Pines news, visit What's New and Events  
---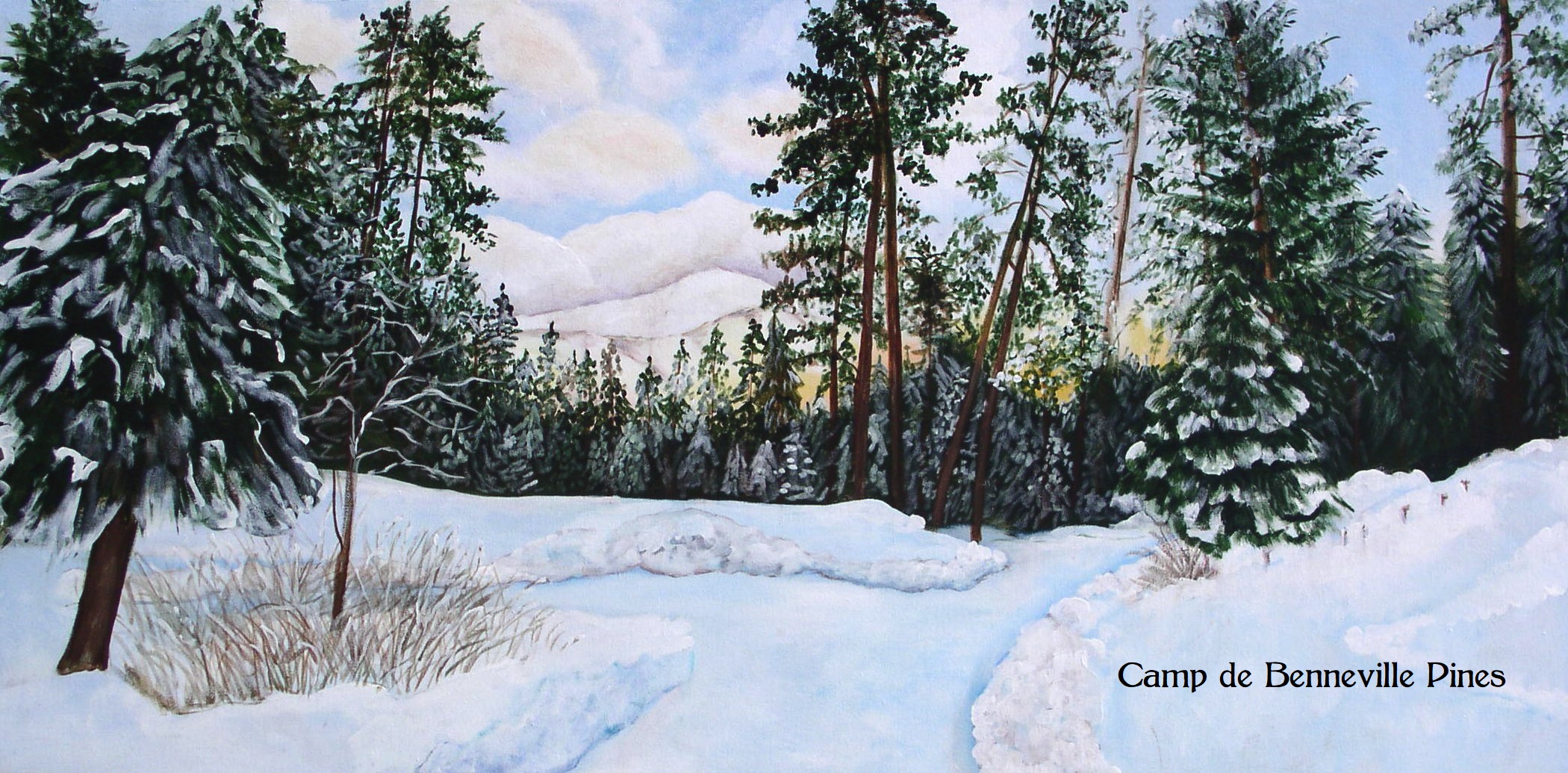 December 28, 2020
Dear Friends of Camp de Benneville Pines,
As we roared into 2020, the Board's focus was on celebrating Janet's 25 years of devoted service as our executive director to our beloved camp.  We were also looking ahead to our 2021 Diamond Jubilee, and plans were underway to celebrate both Janet's 25th anniversary and the camp's 60th year of serving the members of the PSWD.  But due to the Covid-19 closure, our plans to celebrate Janet's 25th anniversary have been pushed off to the end of 2021. Once it is safe to do so, we will hold a 25/60 celebration!
Twenty-five years ago, Janet fought to bring camp back from the brink of bankruptcy and to build Crag's Cabin.  Fifteen years later she led the charge to secure our fresh mountain water supply, and we raised the $650,000 needed to install new water lines, modern fire hydrants, a second water tank and pave camp roads.  Over the years Janet has spearheaded a number of projects including updating the cabins and lodge.  Her biggest legacy has been the growth of our business, booking every weekend and summer weeklong space.  We are so grateful for Janet's dedication to the growth of de Benneville Pines over the years, and for her willingness to put Camp first.  Janet is famous for saying that both she and de Benneville Pines have flourished over the years, and yet we recognize that without her sacrifice, we would not have a camp to love and care for today.
Camp's calendar has been busy over the past several years. Every summer week or school-year weekend is filled with camps for youth, families, and adults, along with congregational retreats and unaffiliated groups such as Camp Bravo, Society for Creative Anachronism, ACA PineCon and Daughters of Diana, (to name a few). It is a testament to Janet and her staff that these unaffiliated groups have become friends to camp and return year after year.  They have actually become an integral and important part of our extended camp-family.
The Covid-19 pandemic landed in our lives with such fierceness that we are only now beginning to believe we can return to some type of normalcy during 2021. The board decided in March 2020 to cancel all in-person camps until it is safe to bring people together in community.  The last thing we want to do is share Covid-19 with one another.
This September, the El Dorado Fire raged through the southern ridge above Camp, burning the remaining green belt left after the Lake Fire five years ago. The hotshot crews saved all of our structures. They told us that our effective clearing of ground fuels was critical to their ability to save the camp.  Additionally, we had 120,000 gallons of stored water in our tanks that provided them with a local water source for firefighting.  Our deepest thanks to those volunteers who helped with fire clearance in summer 2020 and for those who donated to the WaterWorks! Campaign–enabling us to more-than-double our water storage capacity.
In March 2020 we started fundraising for the COVID-19 Emergency Campaign with the goal to raise $600,000 in contributions over 18 months.  It was thought that these funds would sustain minimal staff/camp operations over a 12-month period.  In September, after it was clear that the El Dorado fire had left the camp in danger of mud and ash flows into our structures, this goal was raised to $850,000 to encompass the work needed to install straw bales, silt fencing, k rails and sandbags–the critical erosion mitigation work required to direct ash and mud flows away from buildings.  The leadership secured an SBA loan and received PPP funds.  Sadly, since running out of the PPP money, most employees have been laid off. We searched for FEMA and other emergency grants that might support us during our crisis, but none of these efforts have propelled us forward in a way that would save the camp. Only YOUR giving hearts and helping hands have been able to meet this challenge.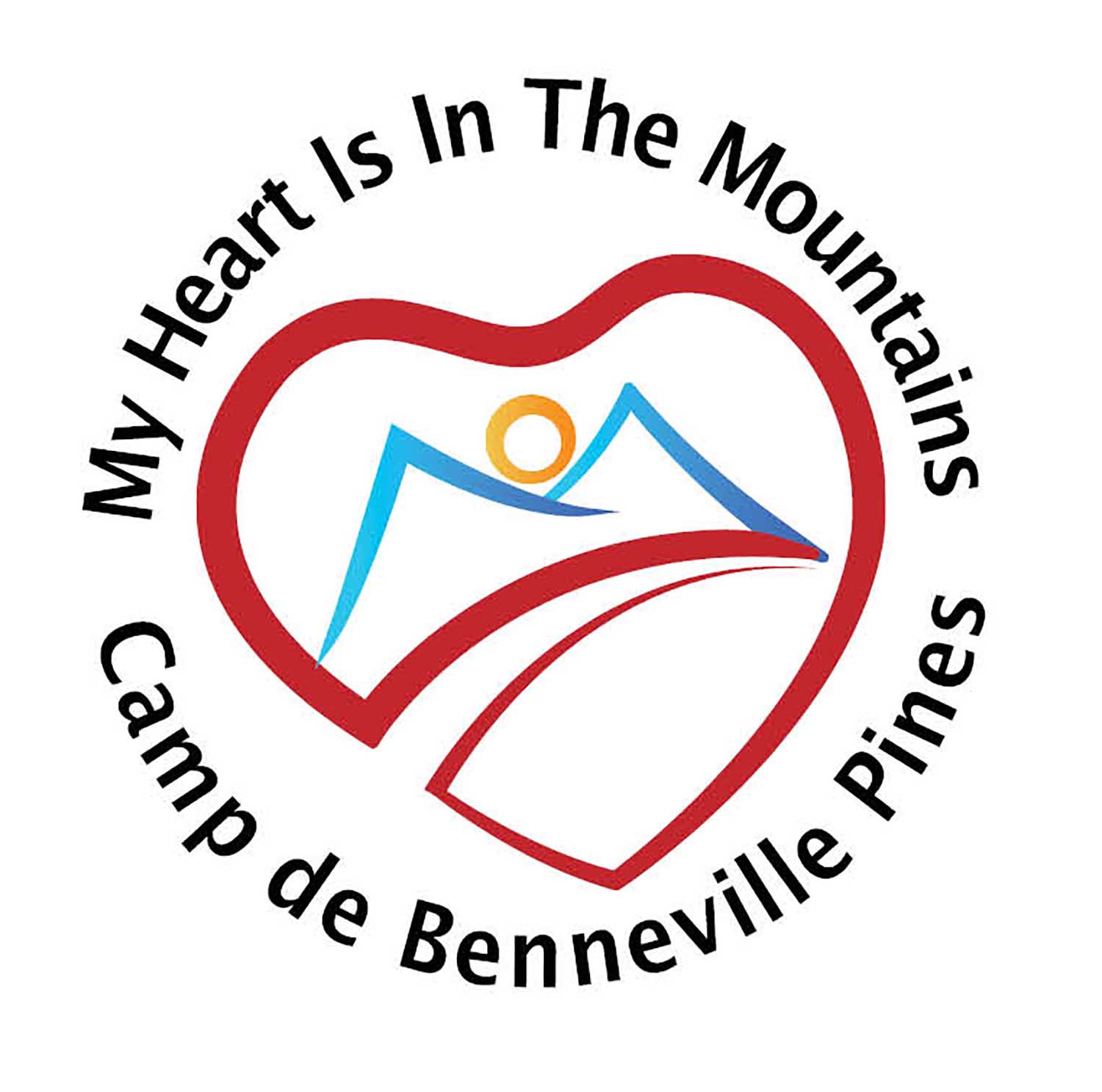 You who stepped up to give, and kept giving, have managed to keep the camp afloat while we have had no income; and you who have shown up to do fire clearance and fill sandbags are truly the stewards and heroes of de Benneville Pines. We are humbled by the depth of your response. As I write this letter today, we have raised over $460,000 (including matching funds).  Since we still have a few days left in 2020, that number is bound to grow higher!  Clearly, we are more than halfway to our goal.
With nine months remaining to meet our goal of raising $850,000, I feel strongly we will rally once again in 2021 to meet the challenge and to raise the final $390,000.
From the bottom of our hearts, we send you good wishes for the New Year and hope that you and your loved ones will stay safe and healthy.  From the staff, executive director and the board, we thank you for including the Camp in your giving plan for 2020.
Happy Holidays, keep staying safe, now more then ever.
Hope is on our Horizon!
Sincerely,
Pat Gordon
2021 Emergency Fund Drive Chair for the Board of Directors Camp de Benneville Pines
---
December 1, 2020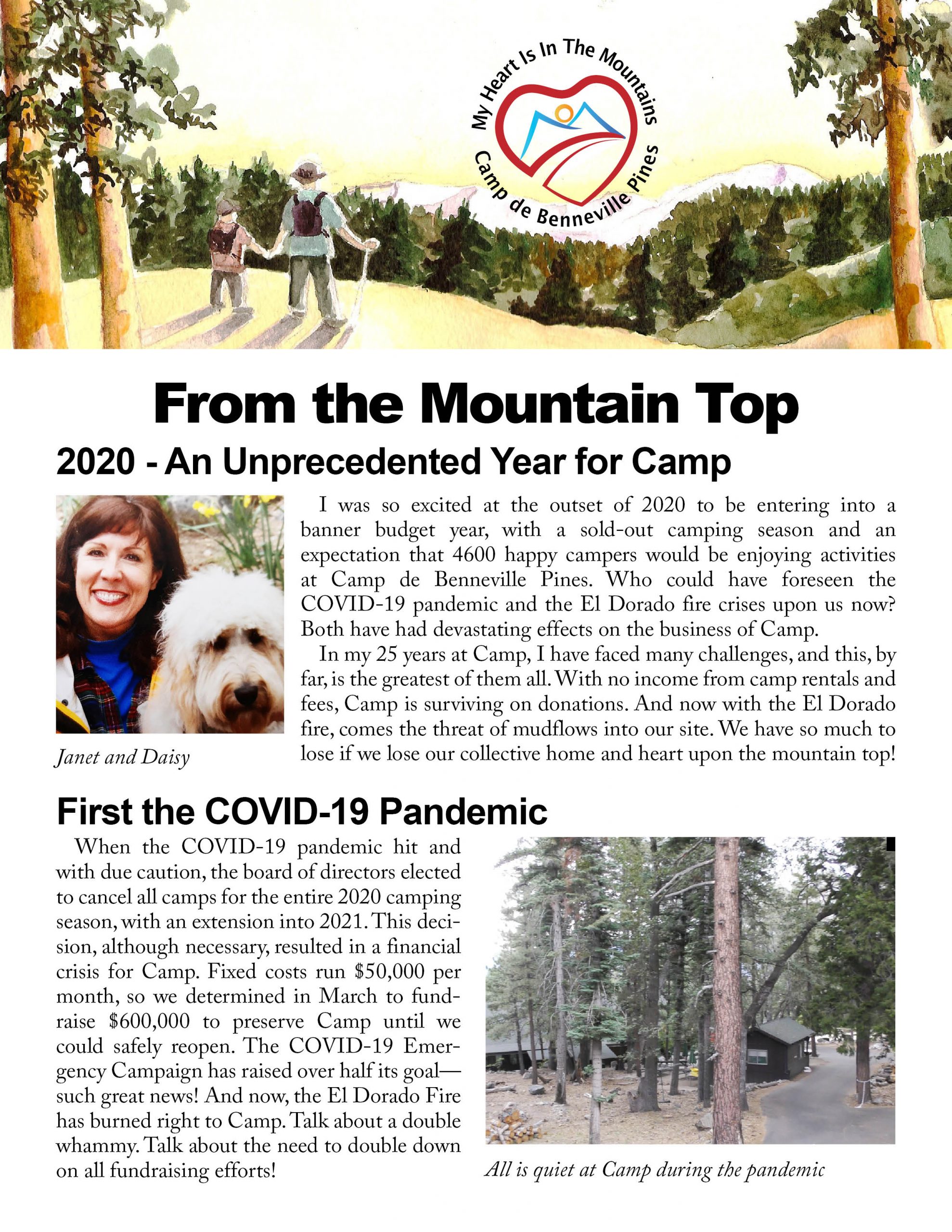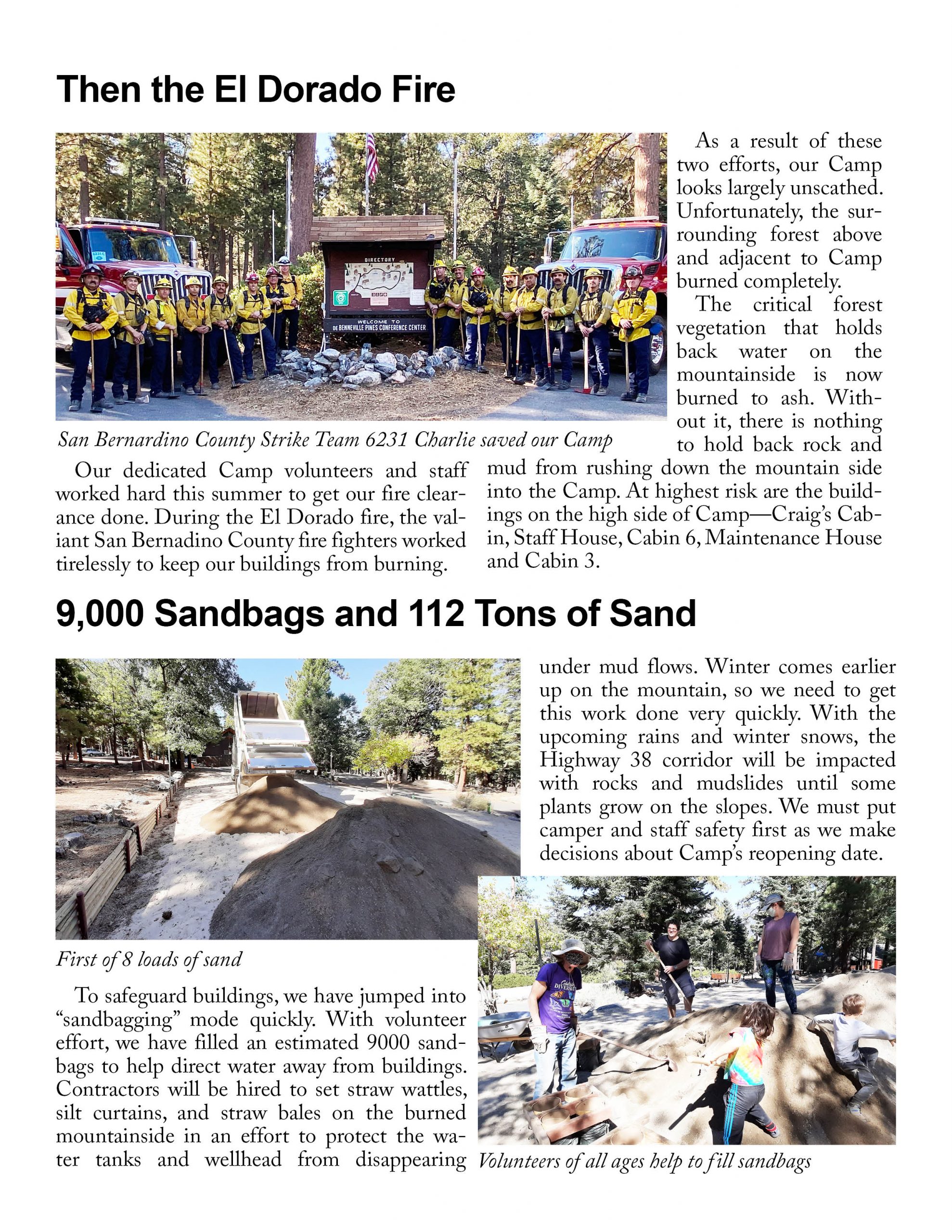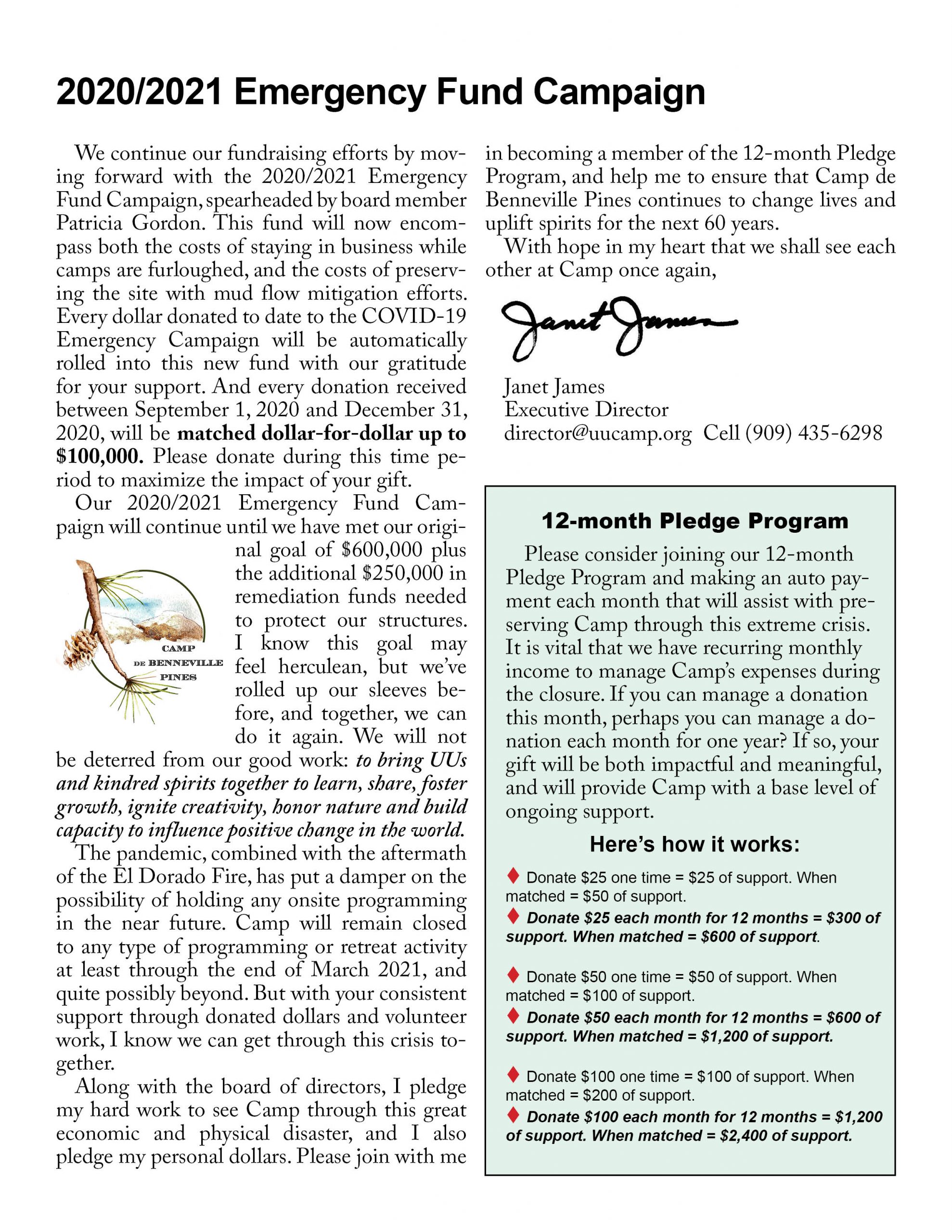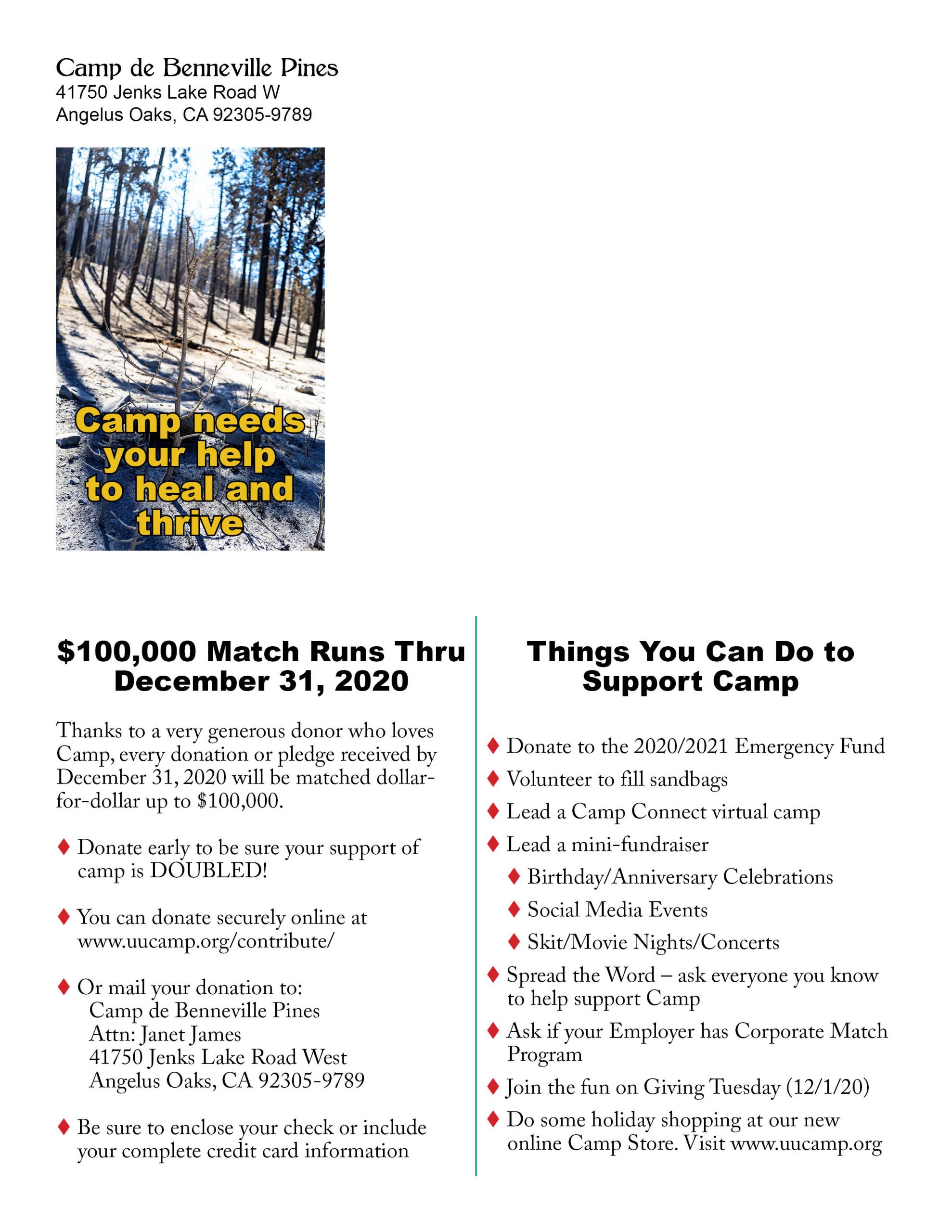 Help Support Camp!
---
October 6, 2020
To put it frankly, our UU camp on the mountain top has been hit hard this year and is in trouble. All on site events have been canceled through March 31, 2021 due to the COVID-19 pandemic. The aftermath of the El Dorado Fire damage and the seriousness of the pandemic could require further delays to reopening in our future.
We are so grateful for the heroic efforts of the fire crews that fought hard to keep the El Dorado Fire from burning the entire forest, and a great big thank you to San Bernardino County Strike Team 6231 Charlie. Under the leadership of Fire Captain Jett Schuster, they worked tirelessly to save the buildings and structures of our beloved camp. It was a battle!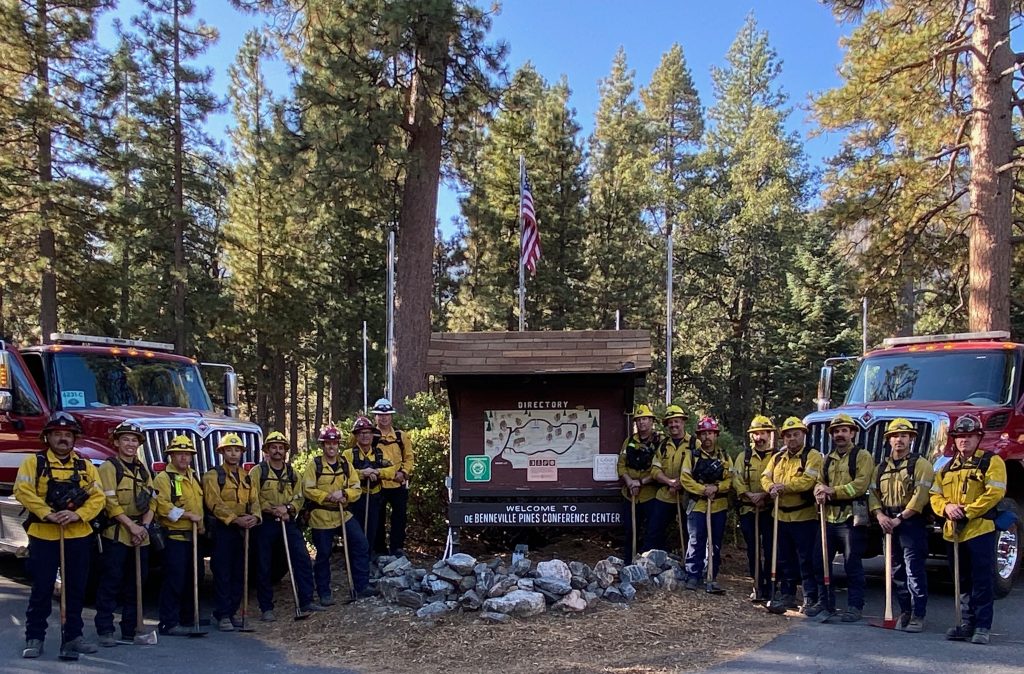 Join us in honoring Charles Edward Morton of the Big Bear Hot Shot crew, who sacrificed his life fighting to protect the forest, wildlife, and people who live upon the mountain top and in surrounding communities. His heroic story and the stories of others will continue to inspire us. We almost lost our camp because of this fire, and had it not been for the work of our staff and volunteers performing fire clearance duties throughout the summer, we surely would have. And yet, we need to do better. We need to have more people help each season to rake pine needles and trim low hanging limbs in camp. If we are to have a camp to bequeath to our children's children, then preserving what we have is imperative. And that takes many helping hands.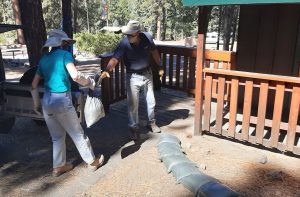 We are also grateful for the outpouring of love we have received during this difficult and scary time. Your concern and encouragement means everything to those who serve on the camp's Board of Directors. Your warm thoughts are uplifting reminders to staff that you appreciate their efforts to take care of your mountain home. Please continue to send healing thoughts and good words of appreciation to our devoted staff as they navigate through all the added responsibilities that come with the fire aftermath. Without a forest on the hill behind camp, preparing camp for the inevitable water and mudflow is extremely important. The staff members are working daily with volunteers to fill sandbags and get them placed in strategic spots to divert water around buildings. In addition, they are preparing for winterizing the buildings and getting the snow equipment out and ready.
We must now address our newest threat to Camp's existence—flooding into camp buildings and roads. It is a big task, and preparing for the worst case of ash and mudflow into the camp will be costly. Initial estimates are around $250,000. Our wellhead can potentially get buried under mudflow, and without the forest duff and vegetation behind our camp the cabins are at risk of being flooded. This puts the existence of your sacred space in the mountains in jeopardy once again. To this end, the COVID-19 Emergency Fund Drive shifts now to do double duty and has been renamed Camp's 2020/2021 Emergency Fund Drive. The fund drive will continue to seek donations to cover operational expenses and will now also need to raise money to help pay for fire and water flow mitigation. Additionally, we shall apply for grant funds to help offset the costs of erosion and flood mitigation.
I want to take a moment and express how grateful we are for the contributions raised during the first seven months of the COVID-19 Emergency Fund Drive — over $250,000 of our original $600,000 goal have been raised. We were on track to raise $600,000 over 18 months, but that goal has been modified to encompass the funding needed for the flood and erosion mitigation.
We will need everyone's help at all levels to reach our new goal of $850,000. We are moving ahead with filling and placing upwards of 6,000 sandbags in strategic areas around our compound. Other, larger erosion prevention projects will need to be approved by the County and USFS before the work begins.
What can YOU do now? Volunteer your time to come up for a day to fill sandbags, rake, clean gutters, and place wood chips on the burned hill next to Craig's Cabin. Donate what you can. Talk to everyone you know who loves our camp. Ask them to log onto our website and DONATE NOW. Between September 1st and December 31st, 2020, all funds donated will be matched to the level of $100,000. So do not think for a moment that a modest financial gift will not make a difference! Every penny makes a huge difference in reaching our goal.
May Camp de Benneville Pines continue to be blessed by your continued support of love and outreach, and your contributions of money and time.
Gratefully,
Pat Gordon
Chair, 2020/2021 Emergency Fund Drive
---
August 23, 2020
The health and safety of the extended camp family is our top priority. While keeping this goal in focus, the board and camp staff are also focused on the long-term financial viability of Camp de Benneville Pines. Our Camp family includes all those who work year-round to make camp the thriving organization it has been for many years, including campers, volunteers, staff, vendors, and everyone visiting our mountain retreat.
After much deliberation, the decision of the board and executive director is to keep Camp closed until Jan 1st, 2021. Consideration has been given to opening summer camps with limited attendance, offering adult camps with limited attendance, providing testing and screening services, and many more ideas. At this time, none of the options considered have been deemed viable, given the safety and financial constraints of the ongoing pandemic. Re-opening of camp will be reviewed at each board of directors meeting scheduled every two months. The re-opening date could be moved out in time but will not be moved forward. Re-opening Camp will require significant planning and lead-time; therefore, any resumption of camp activities will be announced at least three months in advance.
Camp maintenance and improvement activities are continuing with limited staff. Anyone wishing to support camp by attending small, properly distanced, onsite workgroups may do so by contacting Janet James, Executive Director, at director@uucamp.org.
Camp activities will resume when it is generally accepted that it is safe to do so. Many factors will be considered in deciding to start scheduling camps. First and foremost, will be the ability of camp to provide a safe and healthy environment for our camp family. This will include taking guidance from UUA, local congregations, and local, state, and federal governments. Also considered will be the availability of improved screening protocols, improved treatment options, and the availability of a vaccine.
The camp board continues to fundraise to cover fixed costs and reduced payroll during this time of closure.  Please DONATE NOW to support your camp during this financially difficult time.
Until we can all be safely together again up at Camp, please stay well, take good care of each other, and know that Camp misses you.
Sincerely,
Camp de Benneville Pines Board of Directors and Executive Director
---
June 16, 2020
COVID-19 has changed our lives in so many ways. Who knows when things will return to normal?
Returning to Camp one day may mean wearing masks and following social distancing practices. It may mean smaller camps so that people are not sleeping so closely together. It will look different, that is certain. And at least for now, many people are still reticent about venturing out from home and are committed to socially distancing to protect themselves and others from the COVID virus.
Our challenge going forward will be to hold onto a place that is so dear to so many. One day when we can return to "normalcy" we will hunger to be at our camp in community—to hug, to laugh, to share, and to care together. When the day arrives when we can come out from behind our masks, we do not want to find that de Benneville Pines does not exist for us, for our children and grandchildren. What a great loss that would be on top of so many other losses.
The camp's fixed costs are running about $50,000 a month, and that is with reduced staffing. We expect those costs to drop once we have finished refurbishing the cabins, but it is important to maintain baseline staff, so we don't lose our operational memory. The process of reopening to full camps may take some time. People will need to find their way back into society and to camp, and it could take a few years before we can generate enough income to break even again.
To this end, our stewardship committee will soon launch a campaign to raise $600,000 to support camp operations. This money will enable the camp to limp along for upwards of 18 months, by which time we should know what the new normal is going to be. Gulp, $600,000! This goal might seem utterly ridiculous to some, but in my view, it is critical to weathering the COVID storm. Whether you believe we should all hold up in our homes until there is a vaccine or believe we need to re-enter cautiously back into society, both scenarios impact Camp. And the bottom line for de Benneville Pines is this: without a vigorous and continual revenue stream from camp rentals, we must fundraise to survive.
It will take churches, campers, non-campers, lease groups, grants, gifts, Facebook asks, Faithify asks, and creative thinking and doing to reach $600,000…but we are called to try and try we must. A major push to find lead gifts is going on right now. If you have the capacity to be a lead contributor, please contact Pat Gordon at pcgordon7@gmail.com or Janet James at director@uucamp.org. We need to hear from you. And please watch your mailbox for our appeal letter with a return envelope. Your participation on any level will be critical to the success of the camp's emergency campaign. You can also find a DONATE NOW button on this web page and on the menu ribbon at the top of each web page.
Together we can ensure that our beloved camp continues its legacy of building community, preserving our environment, encouraging life-long growth, and changing the world for the better for generations to come. From the mountain top to your house, I wish you well.
In gratitude,
Janet James
Executive Director, Camp de Benneville Pines
---
For ongoing updates and Camp de Benneville Pines news, visit What's New
---
June 6, 2020
I hope this day finds you well and safe.  Along with your concerns, the Covid-19 pandemic has weighed heavy on my mind for months.  I have remained hopeful that the situation would stabilize by summer, and Camp would be full of the smiles and joyful voices of young people reveling in the long tradition of shared times up on the mountain top.  Today, however, I must announce the cancellation of our 2020 Summer UU Youth and Family Camps.
I have been in discussions with the camp board and camping ministries leadership. These heartfelt talks, along with current information from health experts and local regulators, make it clear that we cannot hold camps this summer while the Covid virus is still so active in our society.
Camp de Benneville Pines has been and continues to be a special place to generations of UUs and friends. The closure of summer youth and family camps is sure to be an immense disappointment to everyone, but especially so for our youth who have been looking forward to summer camp 2020 since saying goodbye last summer. As we explore ideas for virtual and on-line activities, we will keep you updated.
While we listen to the missing in our hearts over the loss of summer camp, we must also be thinking about how Camp de Benneville Pines will make it through this financial crisis. The answer is the same as it has been for decades – we will make it through with the determination, perseverance, and hard work of the camp community. The closure of summer Camp is a momentous financial blow that threatens our long-term existence, yet I am confident that you and others, who so profoundly love Camp, will preserve this sacred place by supporting it financially.
We have set up a COVID-19 Emergency Fund Drive to help us through this time of diminished revenue. The actions taken, and the money raised, in this next year are critical to ensuring that Camp de Benneville Pines will reopen one day. Next year marks Camp's 60th anniversary serving the youth and families of the PSWD. With a collective-will, we can ensure the magic and memories of Camp de Benneville Pines will be here for many more generations to come.
In gratitude,
Janet James
Executive Director, Camp de Benneville Pines