All summer camps through September 21, 2020 have been canceled due to the COVID-19 pandemic. Please visit the Camp Calendar page for information on specific camps. You can keep up to date on other camp happenings and read our digital newsletter at What's New?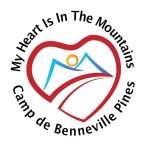 A message from the Director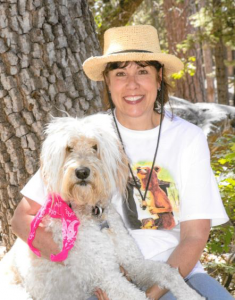 Executive Director Janet James and Camp Dog Daisy Doodle
June 16, 2020
COVID-19 has changed our lives in so many ways. Who knows when things will return to normal?
Returning to Camp one day may mean wearing masks and following social distancing practices. It may mean smaller camps so that people are not sleeping so closely together. It will look different, that is certain. And at least for now, many people are still reticent about venturing out from home and are committed to socially distancing to protect themselves and others from the COVID virus.
Our challenge going forward will be to hold onto a place that is so dear to so many. One day when we can return to "normalcy" we will hunger to be at our camp in community—to hug, to laugh, to share, and to care together. When the day arrives when we can come out from behind our masks, we do not want to find that de Benneville Pines does not exist for us, for our children and grandchildren. What a great loss that would be on top of so many other losses.
The camp's fixed costs are running about $50,000 a month, and that is with reduced staffing. We expect those costs to drop once we have finished refurbishing the cabins, but it is important to maintain baseline staff, so we don't lose our operational memory. The process of reopening to full camps may take some time. People will need to find their way back into society and to camp, and it could take a few years before we can generate enough income to break even again.
To this end, our stewardship committee will soon launch a campaign to raise $600,000 to support camp operations. This money will enable the camp to limp along for upwards of 18 months, by which time we should know what the new normal is going to be. Gulp, $600,000! This goal might seem utterly ridiculous to some, but in my view, it is critical to weathering the COVID storm. Whether you believe we should all hold up in our homes until there is a vaccine or believe we need to re-enter cautiously back into society, both scenarios impact Camp. And the bottom line for de Benneville Pines is this: without a vigorous and continual revenue stream from camp rentals, we must fundraise to survive.
It will take churches, campers, non-campers, lease groups, grants, gifts, Facebook asks, Faithify asks, and creative thinking and doing to reach $600,000…but we are called to try and try we must. A major push to find lead gifts is going on right now. If you have the capacity to be a lead contributor, please contact Pat Gordon at pcgordon7@gmail.com or Janet James at director@uucamp.org. We need to hear from you. And please watch your mailbox for our appeal letter with a return envelope. Your participation on any level will be critical to the success of the camp's emergency campaign. You can also find a DONATE NOW button on this web page and on the menu ribbon at the top of each web page.
Together we can ensure that our beloved camp continues its legacy of building community, preserving our environment, encouraging life-long growth, and changing the world for the better for generations to come. From the mountain top to your house, I wish you well.
In gratitude,
Janet James
Executive Director, Camp de Benneville Pines
For ongoing updates and Camp de Benneville Pines news, visit What's New
June 6, 2020
I hope this day finds you well and safe.  Along with your concerns, the Covid-19 pandemic has weighed heavy on my mind for months.  I have remained hopeful that the situation would stabilize by summer, and Camp would be full of the smiles and joyful voices of young people reveling in the long tradition of shared times up on the mountain top.  Today, however, I must announce the cancellation of our 2020 Summer UU Youth and Family Camps.
I have been in discussions with the camp board and camping ministries leadership. These heartfelt talks, along with current information from health experts and local regulators, make it clear that we cannot hold camps this summer while the Covid virus is still so active in our society.
Camp de Benneville Pines has been and continues to be a special place to generations of UUs and friends. The closure of summer youth and family camps is sure to be an immense disappointment to everyone, but especially so for our youth who have been looking forward to summer camp 2020 since saying goodbye last summer. As we explore ideas for virtual and on-line activities, we will keep you updated.
While we listen to the missing in our hearts over the loss of summer camp, we must also be thinking about how Camp de Benneville Pines will make it through this financial crisis. The answer is the same as it has been for decades – we will make it through with the determination, perseverance, and hard work of the camp community. The closure of summer Camp is a momentous financial blow that threatens our long-term existence, yet I am confident that you and others, who so profoundly love Camp, will preserve this sacred place by supporting it financially.
We have set up a COVID-19 Emergency Fund Drive to help us through this time of diminished revenue. The actions taken, and the money raised, in this next year are critical to ensuring that Camp de Benneville Pines will reopen one day. Next year marks Camp's 60th anniversary serving the youth and families of the PSWD. With a collective-will, we can ensure the magic and memories of Camp de Benneville Pines will be here for many more generations to come.
In gratitude,
Janet James
Executive Director, Camp de Benneville Pines