News from the Mountain Top – July 2021
News from the Mountain Top
Dear Campers and Camp Supporters:
I have been thinking about rocks lately. Strange to admit, "thinking about rocks." but my thoughts have drifted to the many beautiful rocks I see each day at camp. I get a giggle when I see a brightly colored rock out in the woods—a rock that some camper has painted into a ladybug or a frog and placed as a surprise for those yet to walk by. Some rocks are worthy of getting a paint job, dull or boring or oddly shaped. Other rocks are so beautiful that some ancient cultures turned them into beads or used them as currency.
The rocks are falling off the Wayne's Way arch base due to water getting behind the mortar. You can imagine my delight when I learned that one of our employees is a rock mason. Perfect! There are not too many folks who can work with granite in the rough. Most contractors now use "fake rocks" to face a wall or a cabin. So hopefully, after key projects get done, he can masterfully repair the arch base, filling in the missng rocks.
Rocks take on new meaning when you are working hard to slow down water running off the side of the mountain. A few months ago, volunteers were placing rocks in strategic places in hopes that the stones would divert water away from our structures. And most recently, a volunteer lovingly built a new trail to the archery range that directs people past the Coffee House and takes them safely down to the archery range. No more walking through the parking lot or wandering through the woods to find the range. I noticed that he ran out of rocks, and the bottom 12 feet of the trail is lined with logs instead of rocks. I thought to myself, "how on earth did we run out of rocks up on a rocky mountain top?". But, as I looked around, the rocks within "carrying distance" were all way too small or way too big to mark the edges of the trail. So, I suppose we did run out of rocks! What a funny thought.

My mother was my rock for my entire life. She passed away in December, and I find myself feeling unsteady at times. And I miss feeling sure-footed, and some days I struggle to find solid ground. If you have a person in your life who is your rock, pay attention to the strength and stability their friendship brings to your life. Whether you live close or far to one other, a human rock can be a lifesaver.
At Elementary Camp, the campers have created "Rockville". There is this area behind Homet Lodge, just to the south of the Wayne's Way arch, where there are plenty of rocks that naturally wash down from above and plenty of rocks that have been transported there by happy campers.
I do not know what it is about rocks and kids and the magic of rocks, but I, too, remember loving rocks when I was in elementary school. I had one that had flakes in it that sparkled like diamonds. I picked it up in the Black Hills, South Dakota—midnight black with glittery sparkles throughout. I kept that rock for years on my desk; my black plastic pony named Buttercup perched right by that rock. I purposefully kept those two things next to one another because I had purchased that little pony on the same trip that I discovered the rock. I wanted to be a cowgirl after that trip. I fell in love with the great expanse of the Grand Tetons, horses, wild west tales, and cowboy music. Go figure. By the time I was in 5th grade, I was in love with the rhinestone cowboy—Glen Campbell, and thought I would one day marry him!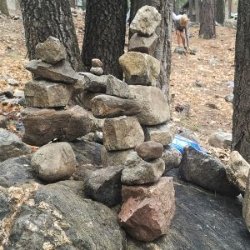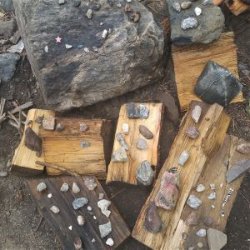 Getting back to the magic of rocks and the experiment called Rockville, there is something so magical about the spontaneity of child-play. Rockville has become an important part of the elementary camp experience, and kids are handing down traditions and inviting new campers to become a part of the Rockville community. I am drawn to the conclusion that Rockville affords young campers a sacred place where play and imagination are the rules for the day. A place where a beautiful rock can be traded for a pinecone or given to another camper in friendship. A place where every rock and every person has value.
Mary Carter-Vail, Summit UU DRE, tells the story of Rockville so perfectly.  Click here to understand why she thinks rocks are crucial to the development of our kiddie campers and how our future leaders are finding their sure footing and creating life-long friendships—their rocks of support—at Rockville (aka Camp)!  
Janet James
Executive Director
Your Beloved Camp
 UU spirit is flying high
In July in the U.S., it is common to see tri-color flags posted throughout the land. At Camp de Benneville Pines, along with the other flags displayed, a new iteration of the many-hued Pride flag has been installed. On a recent visit, Camping Ministries Director Marianne Swift-Gifford, former Camping Ministries Director Geoff Anderla, and Geoff's mom, Ellie, noticed that the old flag was tattered and faded. They took action and donated the new one. True to UU principles, the redesigned flag offers a reminder of more inclusivity for all to see and embrace.
Learn more about the history and development of the Pride flag here >>>
 Camp Events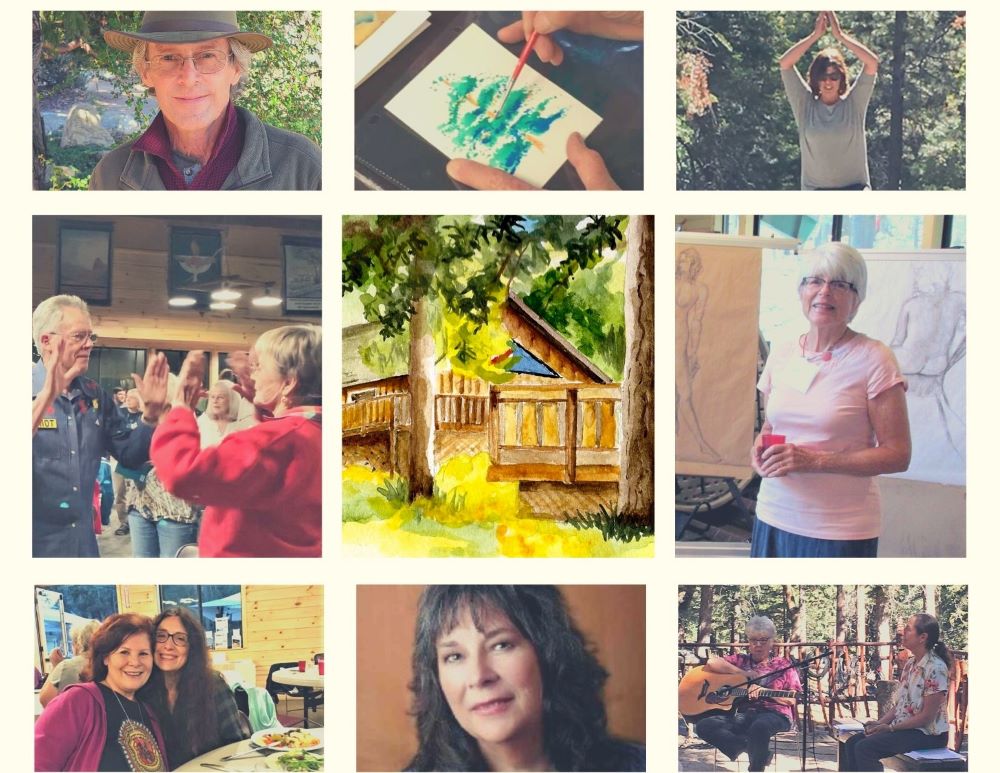 Camps for everyone
Get back into the Camp flow. Join old and new friends for upcoming virtual and in-person events. 
UPCOMING EVENTS
Virtual UU Youth and Family Camps:
Virtual Senior High – (completed grades 9-12) – July 21-23
Starts today! Be sure your teen is registered for this free camp.
Register now >>>
Virtual UU Family Camp
"Community Campfire Night" – Friday, July 30 | 6:00 – 8:00 p.m.
Don't delay, register today >>>
Virtual and in-person camps for adults:
Virtual Summer Break Camp for Adults – August 11 – 15
"Through the Ages – In Relation with Land, People, and History"
By the time you receive the next newsletter, this camp will be over. Don't be sorry that you missed it when you could have been a part of it.
Read more and register now for this historic camp >>>

In-person UU Young Adult Camp – September 3 – 6
Information and registration >>>  
In-person Art Camp for Adults – September 10 – 15


"Art Groove" 
   Get your art groove on here >>>
In-person Yoga and Whole Living Camp – September 24 – 25


"Embracing Change"
BIG news: This event is moving up the mountain for in-person camp! Please note the date change.
Get information and register to embrace change in your life >>>
***When you and your family attend and contribute to virtual camps, you are supporting your beloved camp on the mountain top. Your support helps to ensure Camp can survive so you can meet in person in the future.***
Save these dates for in-person fun, fellowship, and celebration:
Music in the Mountains – November 5 – 7
Thanksgiving Family Camp – November 25 – 28
Camp's 60th Anniversary Celebration – December 4 | San Diego, CA
"60 Years of Love"
Be sure to stay up-to-date and get details about virtual and in-person retreats on Camp's website Calendar and Camp Connect pages.
Campers Say and Do
2000s
Leading up to the Y2K, the year 2000, there was apprehension and uncertainty. Was our relatively new digital world going to be able to translate these new digits? Would everything crash?
As it turned, out everything was okay. And all along – before and after Y2K – Camp de Benneville Pines continued to be there for you. Your rock on the mountain. 
So, if you were at Camp in the early 2000s, now is the time to reveal your stories, memories, and photos.
We will share memorabilia throughout the year, leading up to the grand 60th anniversary celebration, 60 Years of Love, in December 2021.
Send digital files to history@uucamp.org. You may also mail mementos to de Benneville Pines History, 41750 Jenks Lake Road West, Angelus Oaks, CA, 92305-9789. Do not send anything that you must have returned. If you don't want to part with originals, please make good quality copies to send. 
Okay, now we are looking for photos from the past decade. If you have a phone, you know you have photos! You don't even need to dig a box out of the closet. Use the information above to send them.
Send your questions to office@uucamp.org.
Kids World
Daisy has been waiting for people to play with her. She wants to know what her favorite people (kids) are doing. Please help Daisy by having the young people in your life send her a letter. Daisy has written a sample letter with a list of all the things she wants to know. 
Watch this Video 
A land for all
Watch this joy-filled folk icon lead a well-known song of another legendary folk leader. It is a song for the masses, a song for all people on this land.
Every donation matched dollar for dollar until December 31, 2021
Keep the spirit of de Benneville Pines and yoUUr faith alive in your heart.